Musical Performance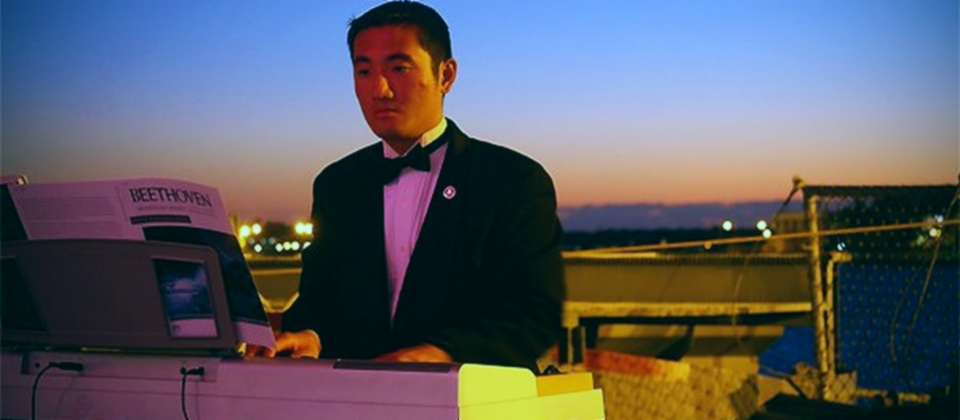 Performing Beethoven's Moonlight Sonata on the deck of the Battleship USS Missouri anchored in Pearl Harbor.
---
---
---

QUICK LINKS: Classical Piano | Marching Band: Trumpet

---
---
---
Classical Piano
My passion for music began at the early age of 4, when I found myself standing on stage with a quarter-size violin on my shoulder. My interest shifted to the piano a few years later, and I started formal training in classical piano under the instruction of pianist Irina Wolynez. Through elementary and junior high school, I devoted countless hours to the piano, and it became a competitive "sport" for me in high school. I traveled around the state and won numerous awards in the classical piano categories of piano duet, piano solo, and piano concerto. After we won 1st Place for Piano Duet at the state level for four consecutive years, my piano duet partner, Helen Kong, moved on to study at the famed Eastman School of Music… and I became a meteorologist.
The rest is history.
Dimitri Kabalevsky's Piano Concerto No. 3, mvt. 1


From the 2008 "Leap Day Concert" at the University of Oklahoma, with the majority of the audience consisting of professors and students from the OU School of Meteorology. All the pianists were meteorologists. Owen Shieh, soloist; David Bodine, accompanist; Craig Schwartz, page turner.

Journey's Greatest Hits – Piano Medley


From the same concert but a year later in 2009… I know, I know, this isn't technically "classical" music, but hey, Journey is one of my favorite classic rock bands, so I decided to compose this little medley of their greatest hits. Video was slightly cut off at the end when the camera decided to fail. Sorry!
Claude Bolling's "Sentimentale"


From the 2007 CU ROSE Concert at Cornell University. Alice Beattie, flute; Owen Shieh, piano; Kevin Ballantine, drums; Brian Liebl, bass; Daniel Jones, page turner. This was my last musical performance with my friend Kevin Ballantine, who lost his fight against leukemia in 2012. May he rest in peace.

Ludwig van Beethoven's Piano Concerto No. 2, mvt. 1


After winning 1st Place at the 2002 Young Performing Artists Competition, I was invited by Conductor Robert Coleman to perform in my formal debut on the concert stage as a high school senior with the Space Coast Pops Orchestra in their 2003 "Back to Vienna" concert. Over 2,200 were in the audience.
---
---
---
Marching Band: Trumpet
Throughout my four undergraduate years at Cornell University, I was a proud member of the Cornell Big Red Marching Band, with the claim to fame of being the "only REAL marching band in the Ivy League." As a member of the legendary trumpet section, many of my priceless college memories revolved around their activities. When I didn't have my head stuck in a calculus or atmospheric dynamics textbook, I could be found writing marching band field drill or practicing and performing on football fields across the Ivy League… through rain, sleet, and snow. I served as Show Committee Chair for two years, leading the band on the field as a drill writer, instructor, and assistant drum major. As part of the largest 100% student-run organization on campus, I gained lots of first-hand leadership experience from managing student participation, drill instruction, and out-of-state travel throughout the Ivy League Conference.
Here is a sampling of some of our performances. Please pardon the poor sound quality. Our volume overwhelmed the poor little digital camera microphone.
Cornell vs. Yale (2006) Pre-Game Show
"Pirates of the Caribbean" – Part 1


Served as the left side conductor for this pre-game show and was the primary drill writer for the field formations you see here.

Cornell vs. Yale (2006) Halftime Show
"Pirates of the Caribbean" – Part 2


Served as the right side conductor for this halftime show, then taking over as the drum major (primary conductor) at 03:55 when the "pirate fight" ensues.
Conducting Queen's "Bohemian Rhapsody" (2006)

My senior year going-away sendoff, leading the Cornell Marching Band in a casual, fun-filled post-game concert rendition of "Bohemian Rhapsody" by Queen.
…but not until after a little prank interlude by the trumpet section, of course.
Halftime Show at the NFL New York Giants' Stadium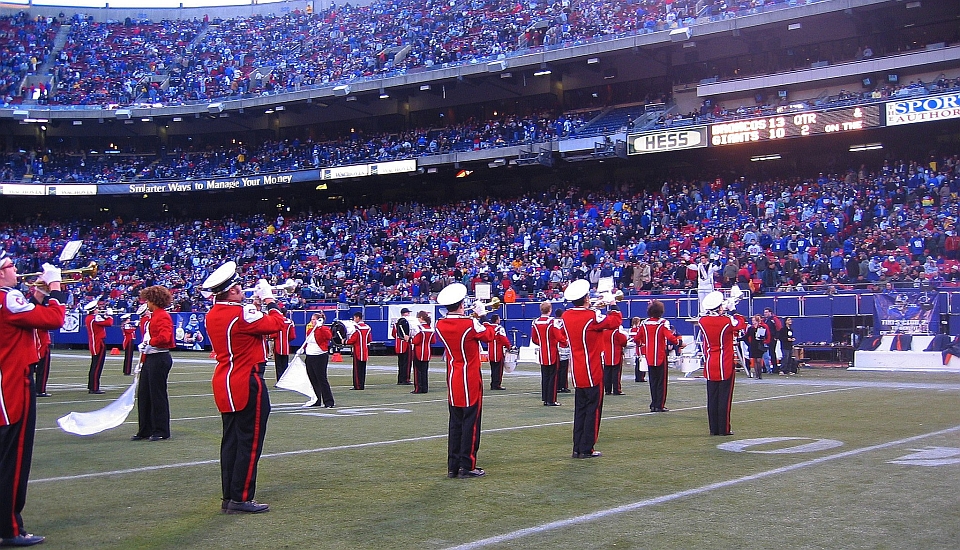 Who could forget the two times we were invited by the NFL to perform at their halftime shows?! This photo was taken at New York Giants' Stadium in a game against the Denver Broncos in 2005. Later that year, we also performed at the Bills' Stadium in their game against the New England Patriots.
Cornell "Alma Mater"


The Cornell "Alma Mater" with lyrics set to images from campus. We concluded all of our marching band performances with a rendition of this timeless classic, which unites Cornell students and alumni of all generations.


Cornell "Evening Song" & "Alma Mater"


Alumni and guests join the Cornell University Chorus and Glee Club in singing the "Evening Song" and "Alma Mater" in Sage Chapel. The songs bring a flood of nostalgia each time I hear them. The loyalty of the Cornell alumni is clear, as it is customary to rise each time "Alma Mater" is performed.