In the News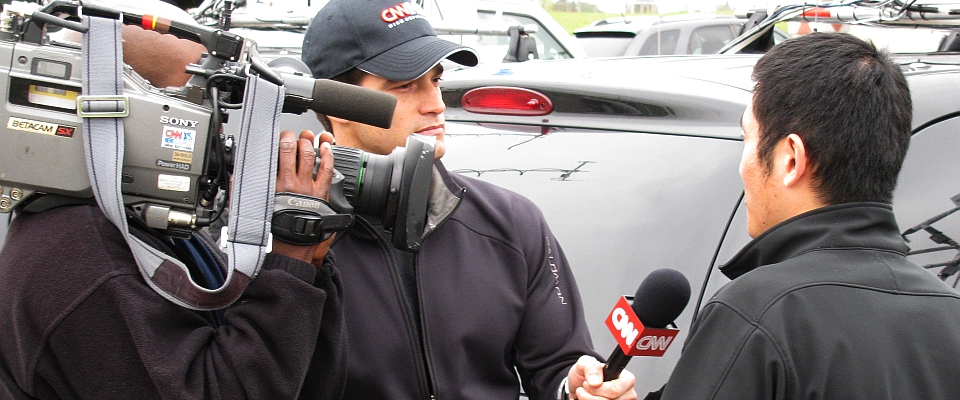 Featured on national cable news during the VORTEX 2 Field Experiment to explain the science of tornadoes and tornadogenesis to the general public.
---
---
---

QUICK LINKS: Video Interviews | News Articles | Podcasts

---
---
---
Videos
TEDxHonolulu 2013 – "Untamed Skies: Where Science Meets Humanity"
Idea Worth Spreading:
"We can cultivate a more resilient community by appreciating the science of hazardous weather and paying attention to its impacts on humanity."
During a trip to Taiwan in 2009 to give a guest seminar at National Central University, I was unexpectedly caught in the midst of Typhoon Morakot, the deadliest typhoon to hit Taiwan in recorded history. As meteorologists, my friend Nick Engerer and I decided to throw on our rain jackets and survey the damage in the midst of the storm. What was saw was horrifying… torrents of water ripping through the countryside, spilling over dams, and tearing through highways. Here are some of the scenes we witnessed, courtesy of Nick, which were aired in a series of live phone interviews with The Weather Channel.
Typhoon Morakot Phone Interview (part 1)


First live phone interview with The Weather Channel. (8 August 2009)

Typhoon Morakot Phone Interview (part 2)


Continuing coverage from the extreme flooding in Taiwan. (9 August 2009)

Typhoon Morakot Phone Interview (part 3)


Video montage and weather synopsis. (9 August 2009)

Typhoon Morakot Phone Interview (part 4)


Final interview with Mike Bettes after the storm. (10 August 2009)
---
---
---
News Articles
Weather Whys Wednesday: The Eastern Caribbean Graveyard
– a blog article based on my research paper about the local minimum of tropical cyclogenesis in the eastern Caribbean
(1 August 2012)
Webber Hosting Hurricane Awareness and Safety Seminar – press release for seminar at Webber International University (20 March 2012)
Meteorology graduate students receive prestigious scholarship – newspaper article about winning NSF Graduate Research Fellowship (9 June 2009)
Scientists chasing killer tornadoes across Midwest – quoted by CNN.com in headline news article about the VORTEX2 field experiment (14 May 2009)
$11.9M Tornado Project Set to Launch in 8 States – News9.com interview at the start of the VORTEX2 field experiment (8 May 2009)
NSSL Briefings Newsletter – summary of NOAA Hollings Scholarship research by NSSL (Fall 2006)
NOAA interns study real-world weather – interview by the Norman Transcript about NOAA Hollings Scholarship research at NSSL(28 July 2006)
---
---
---
Podcasts

WeatherBrains Podcast – podcast interview about my research at Cornell University and the University of Oklahoma (13 July 2010)